This project has occupied my headspace for the last couple of months. And then it happened in an afternoon! I am always excited like a little kid when Portia reveals the theme of the Refashioner's Challenge. We're used to transforming one type of garment, like a pair of old jeans or a shirt, into something new. But this year's challenge is a little different: The idea is to take an inspiration image and recreate the look by using existing garments or textiles - not buying anything new. Check out what everyone's made for #therefashioners2018!
Here are just a few of the hundreds of inspiration images I collected. Browse my pinterest board for more:
With no restrictions as to what kind of textiles can be used, inspiration came manifold. So manifold, in fact, that I felt a little lost and reveled for hours and hours in all the possibilities of what could and would be done! Oh, the marvels of endless inspiration! Choosing just ONE starting point felt almost impossible to do, so I put it off until a few days before the official end of the competition. Such a tough choice, but finally I settled with the following pictures to get me started (check my pinterest board for credits and sources):
I love the color and texture of a cheerful rag rug, like the ones on our kitchen floor. I also love the experimental takes on weaving and knitting with thick strands of yarn or with fabric scraps, and the garments they produce. For this refashioner's challenge, I wanted to recreate the same texture and feel in a bold but wearable piece of clothing. I'd been wandering thrift stores with lots of images in my head but when I finally got down to it, I opted to use what I already have. Textiles that have been waiting, unused, for their chance to be repurposed. I had four tiny rugs that haven't been used in our home. I believe they were supposed to be place mats, but we never found them useable. I knew the design of my garment would have to be simple when working with these thick woven textures. I had in mind a dress with a very simple silhouette: A plain bodice and an A-line skirt. So to my four rugs I added a nude knit top as a base to add my rag rug skirt to. The top is a hand-me-down, I believe from my mum. It fits me, but is way too short for me to actually wear as is. I'm very fond of the random color mix that emerges from the combination of all those scraps in the rugs. The irregular texture adds interest, too, but it sure didn't make working with these "fabrics" easy.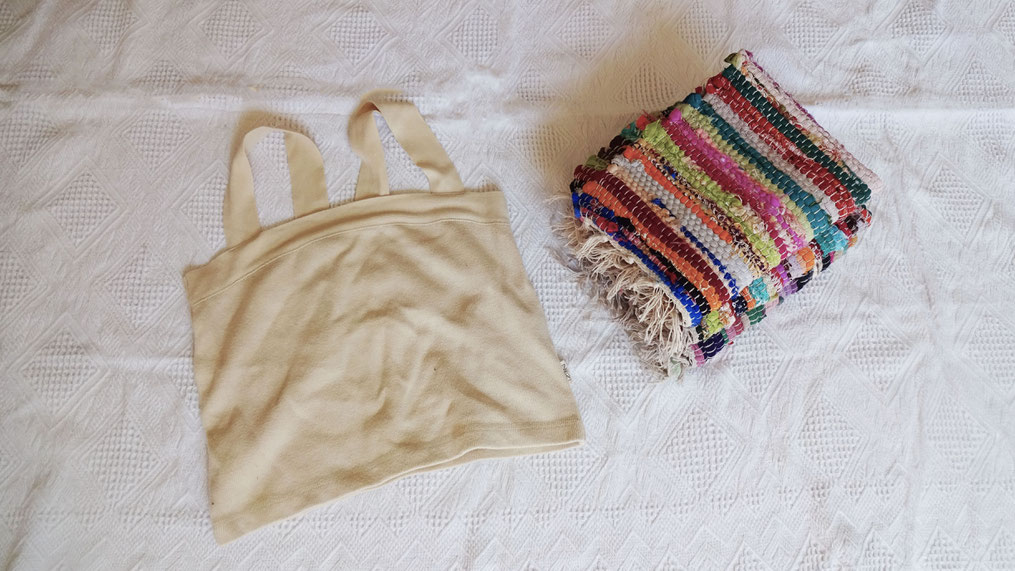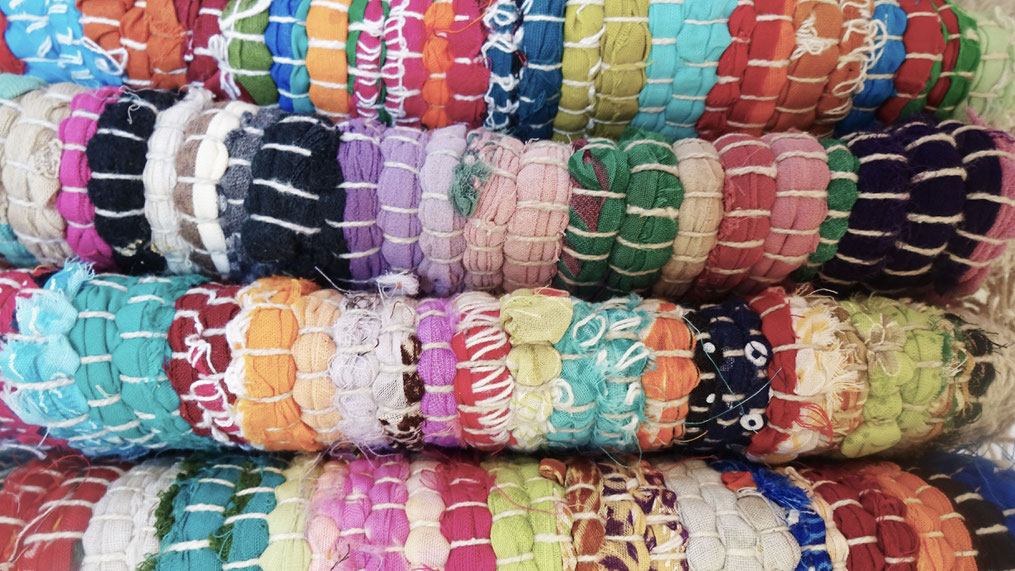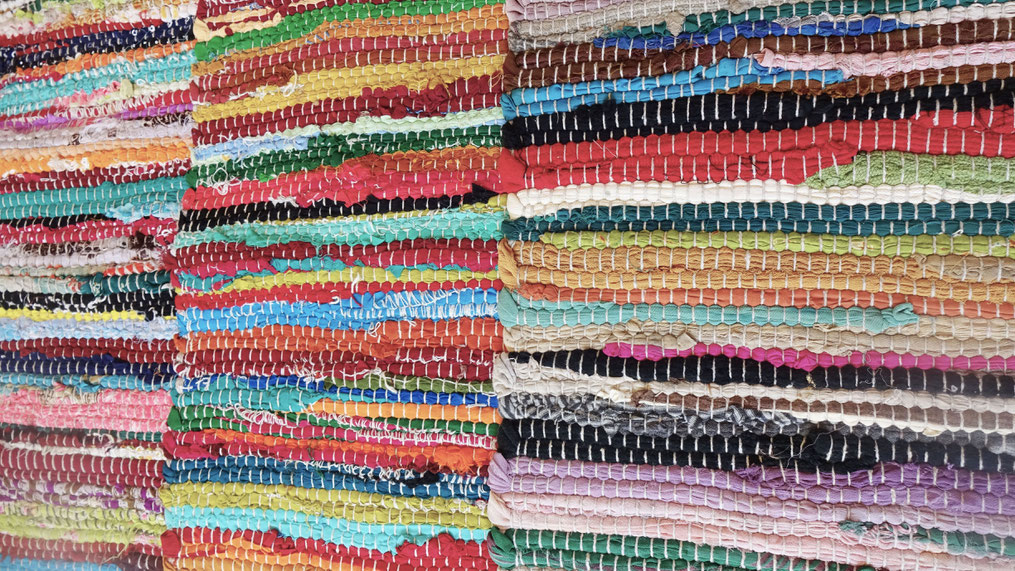 Once I'd decided on the general silhouette of my refashion, I realized I couldn't possibly cut the four rugs to shape. They would unravel at a moment, would I tamper with their integrity. So I had to keep their rectangular shape and work my way around that to get the silhouette I wanted. Also, the thickness of the weave meant I couldn't tame them with my machine - I would have to take the slow road and handstitch. Happy to keep things unpretentious, I sat down with needle and thread to stitch each of the four rectangles to the top. To create a slight A-line shape, I overlapped the rugs to different degrees at the top and bottom sides. 
Here's my main inspiration image and what I came up with. Tulips aren't in season right now ;)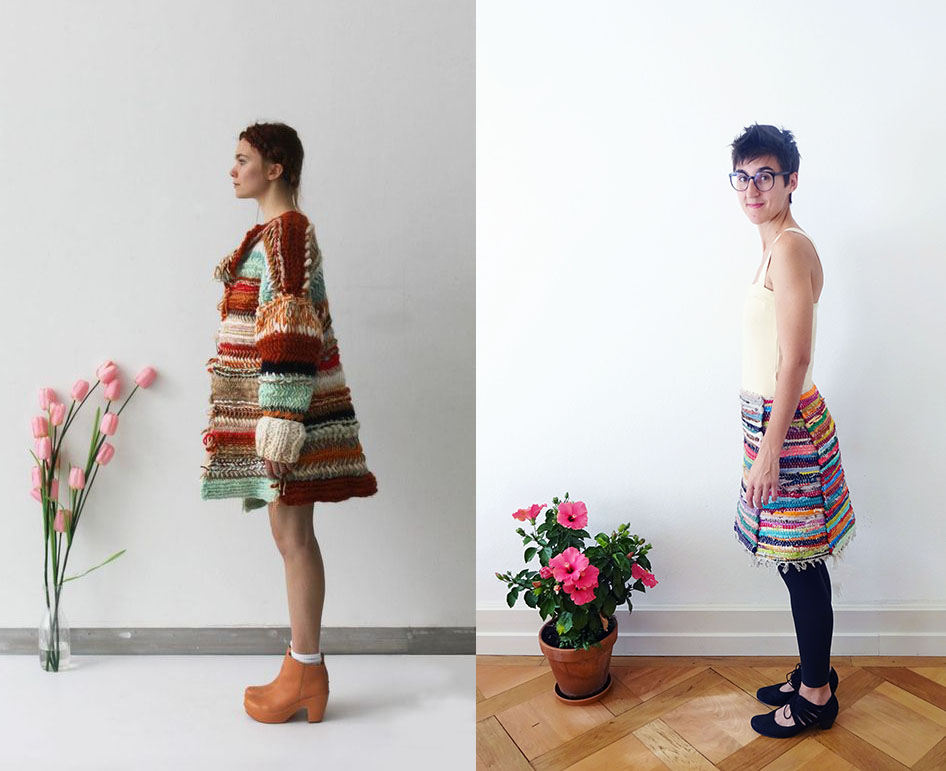 Even with my strongest needle and a thimble, the fabric was a beast to get through. While handstitching the pieces into place, I meditated on how I would manage to include an opening to the dress so I could get in and out. A handstitched zipper? Large buttons? Small fabric ties on the sides? I decided to handstitch everything close first, check the fit and only then resolve the closure issue. It would be no trouble to add an opening later, as I'm only working with large, easily unpickable handstitches. To my surprise I came to find out I could easily slip the dress over my head with all sides closed, so no closure needed at all.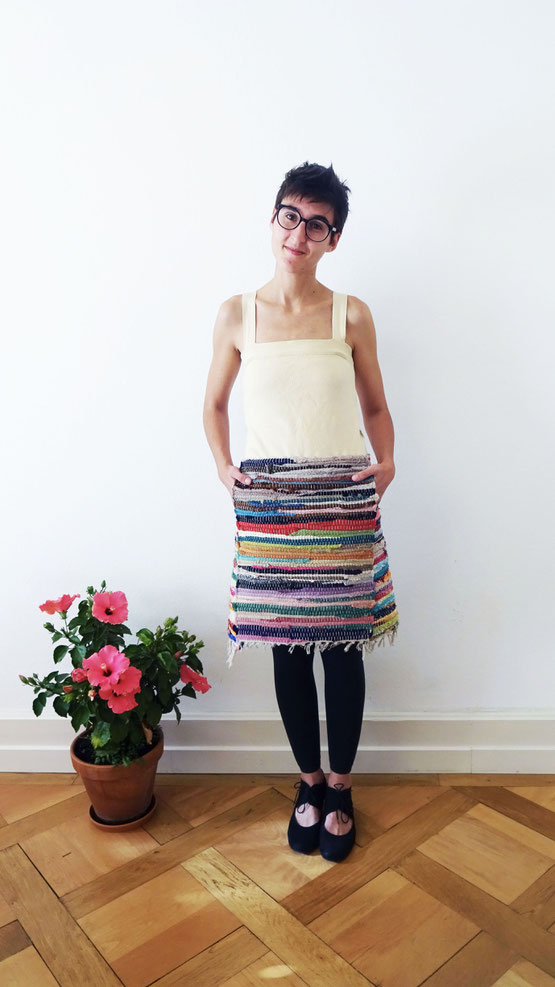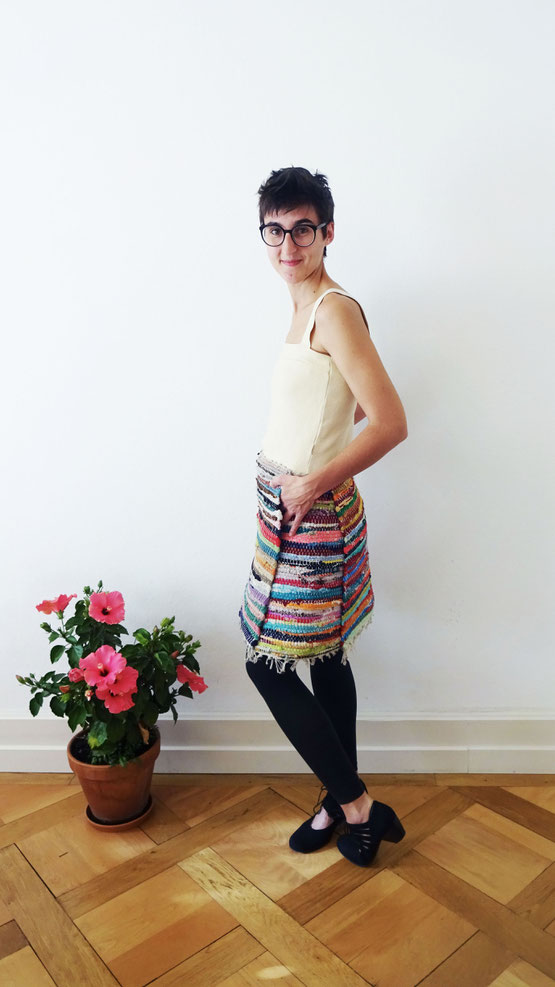 What's a dress without pockets? As the rug pieces overlapped at the sides, adding pockets was a breeze. I simply handstitched the pocket shapes when closing the sides, instead of going a straight line. The stitches aren't visible at all, they just disappear in the texture of the rugs. Here's how I like to wear this out: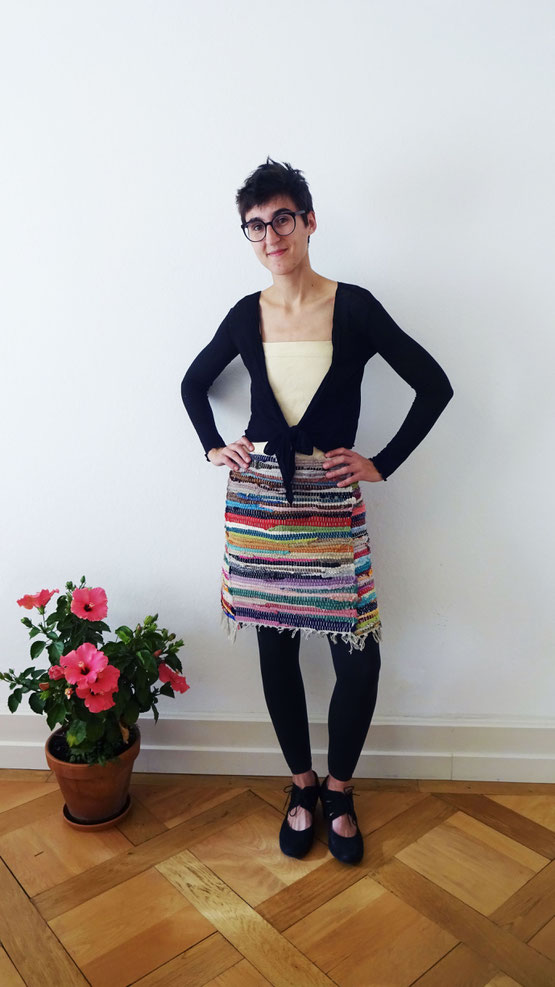 So I made a recycled garment out of already recycled textiles. I like the idea of an ongoing reusability of things, making one thing out of another which isn't used anymore. And then making something else when the time has come and it isn't valued any longer. And then again and again and again, prolonging the life span of a product or material almost endlessly. Thinking about my dress, I figure once I don't enjoy it anymore, I will take the pieces apart and use them to a different purpose. As I didn't cut into any of the materials used, I will be able to unpick and reclaim the original pieces. I wonder what purpose they will serve next? I can't help but making up different uses for these pretty materials. My refashioned dress is no static piece of clothing. It's a transformation and an ever transforming and evolving everyday object. I like to think of the dress as just textile material that will be used to whatever purpose it is useful. In that sense, I also really enjoyed the open prompt of the challenge to include not just pieces of clothing as source materials, but ANY kind of existing textile in need of a new life.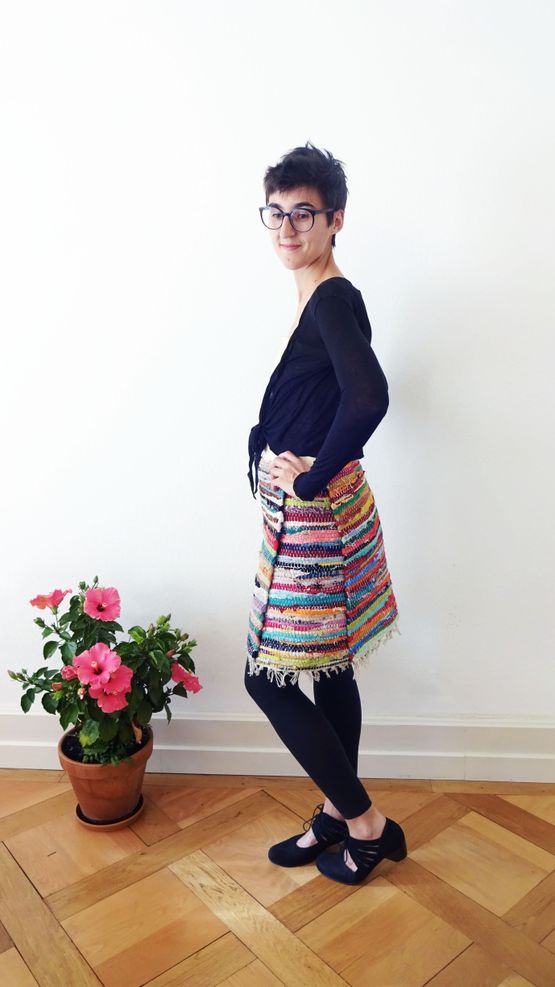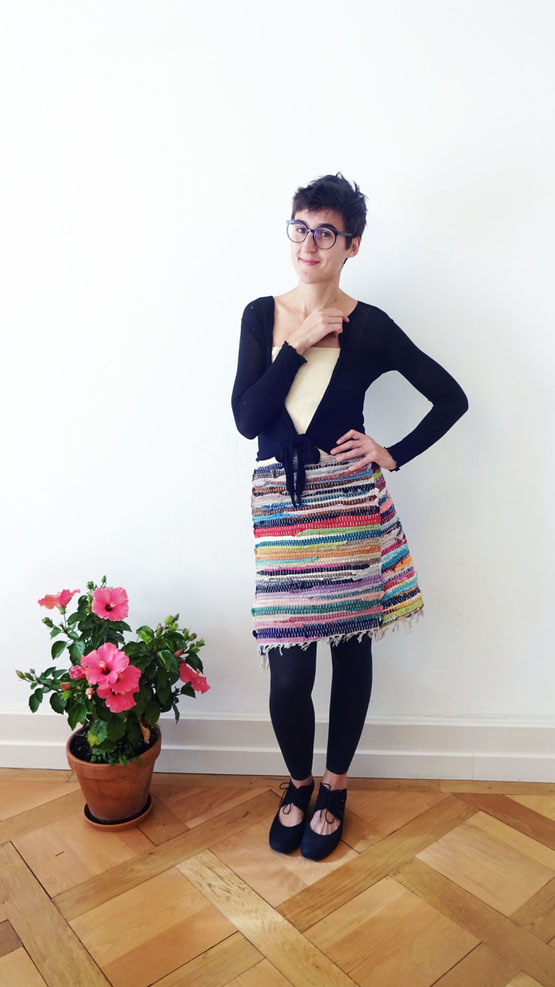 My inspiration came from the surface textures of thick knit or woven textiles. The design I went with is very simple. The challenge for me lay in keeping the original form of my materials, just working with and around the shapes they came in when transforming them into something I would wear. Not counting the hours I spent brooding over this project before I actually got started, it just took me one quiet afternoon from the first to the last stitch. So far, my refashions have always been very time-consuming projects, making things up as I go along and fitting and refitting the garments I was working with. This year's refashioning project has been very different in that respect. It was very satisfying to sit down, slowly hand-stitch everything in place and see the thing actually come together in just a couple of hours. It reminds me that upcycling doesn't have to be all too complex and sophisticated. It can be just four rectangles pieced together to make one special piece of clothing I will enjoy and value.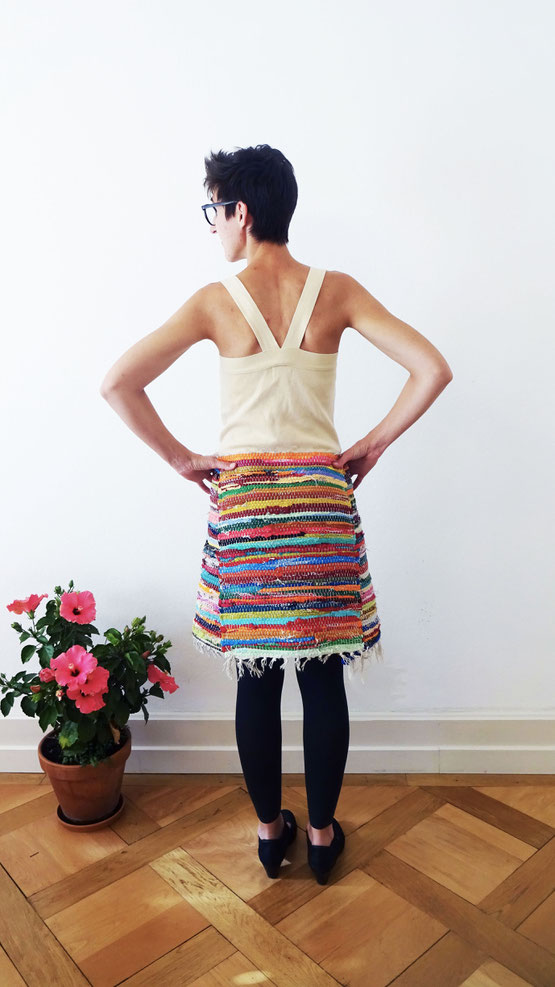 Thank you for your time!
xxx
Mirjam