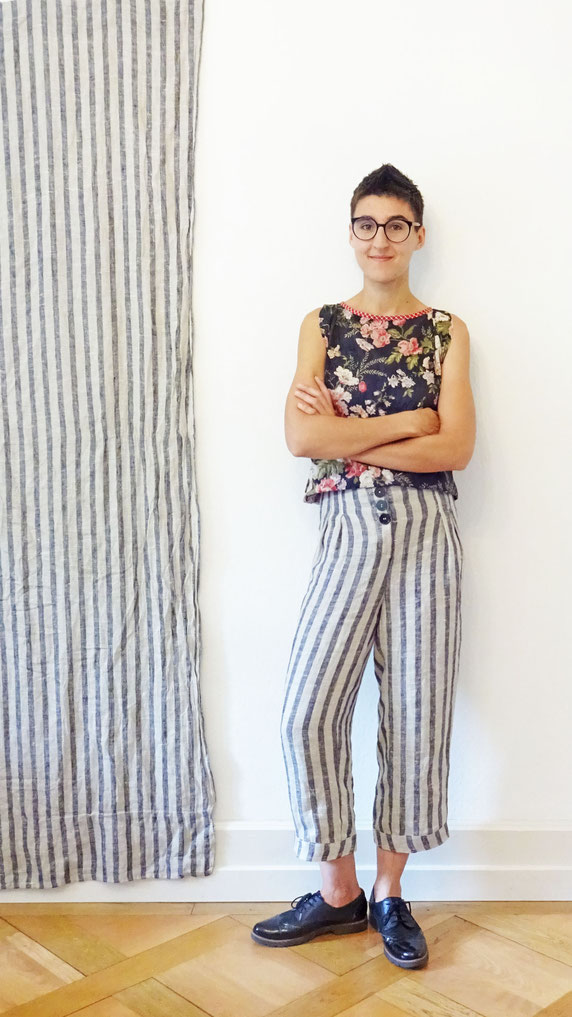 Oh hi, I'm just hanging out with my curtains, in my matching curtain pants. Feeling good and handmade.
Just in time for fall weather to take over this country, I finished my ultimate summer pants. I had these old pure linen curtains that looked like a good pair of hot-weather-pants to me. The pattern is self-drafted: high-waisted with front pleats and back darts, a little loose around the legs and hitting just at the right length for my taste. I did not pay special attention to stripe-matching when cutting the pattern pieces but was lucky enough to get some decent pattern-matching anyhow. I like how the stripes at the ankles are nicely alternating with the cuffs!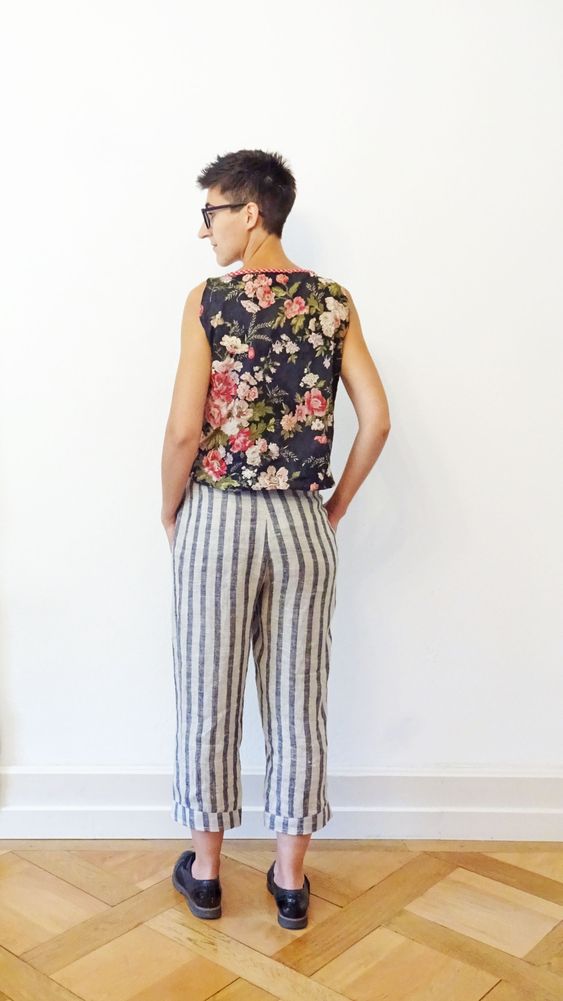 The fabric is 100% linen, so it's quite perfect for summer clothing I thought. However, the fabric is actually quite rough and a bit scratchy to the touch. I only noticed this when wearing the pants out for the first time. I only know linen to be a skin-friendly and soft fabric, so this was new to me. Of course this here linen obviously wasn't intended to be worn directly on the skin. I only got half a day of sunshine after I made them, so I'll yet have to see how they feel when I wear them longer. Maybe next year?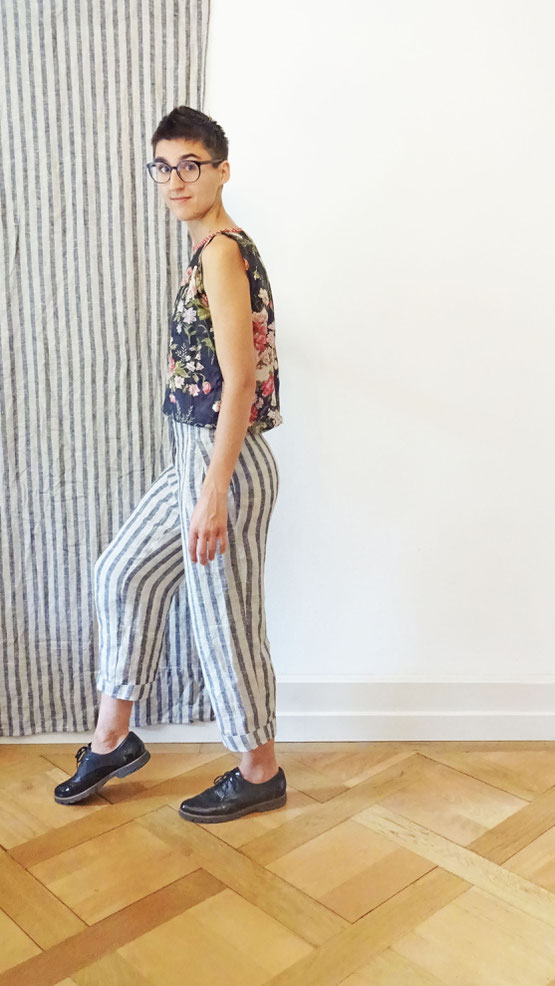 I really thought I could disappear in front of the curtain. Can you still see me? ;)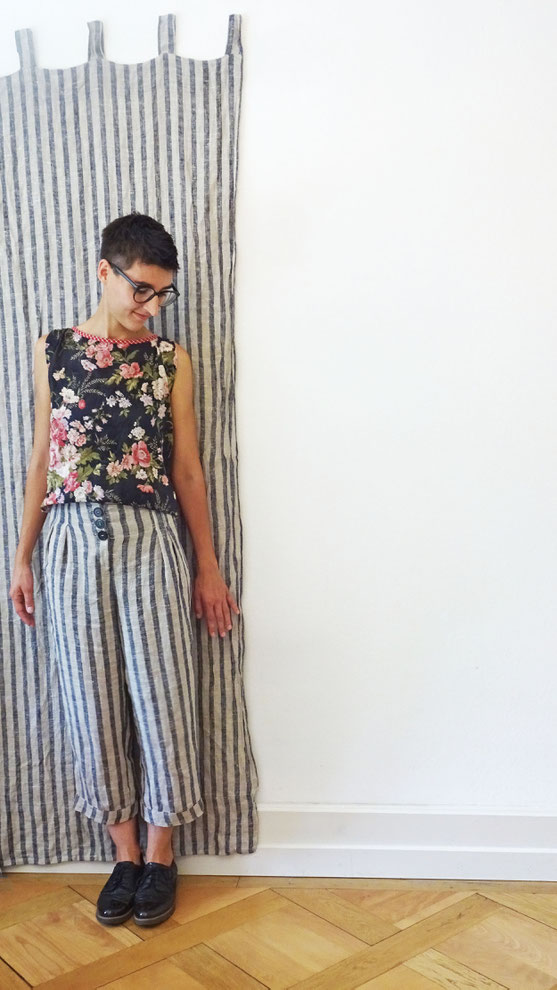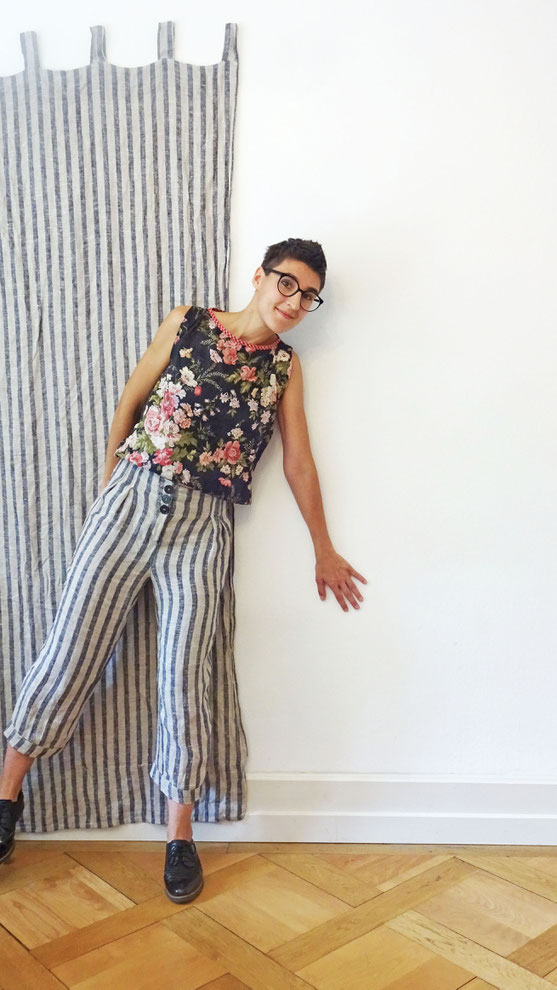 I paid extra attention to a neat front closure, trying out something I hadn't done before: A half-invisible button-fly. The top three buttons are visible, while the bottom three are hidden and give some extra security. It took me some time to figure out the number of left and right pieces and facings I'd need. Once I got there though, I think this closure is much more straightforward to construct than a regular zip-fly. And I absolutely love the special detail. I used up some old mismatching buttons from my stash, so - except for the thread - nothing new has been used for this project.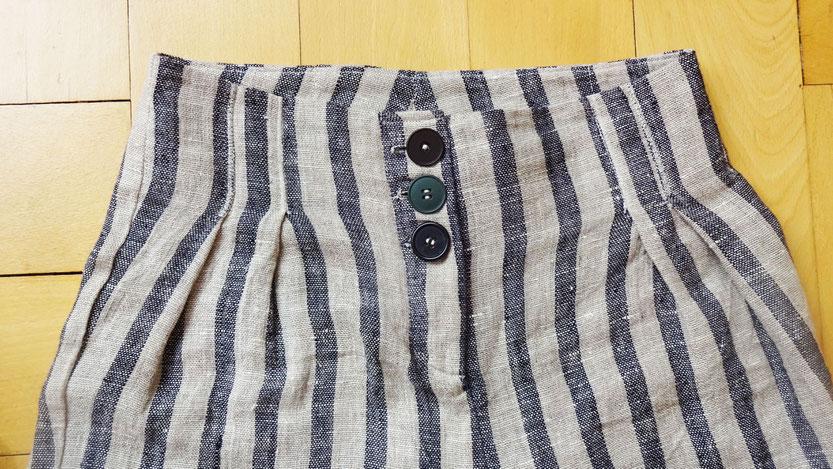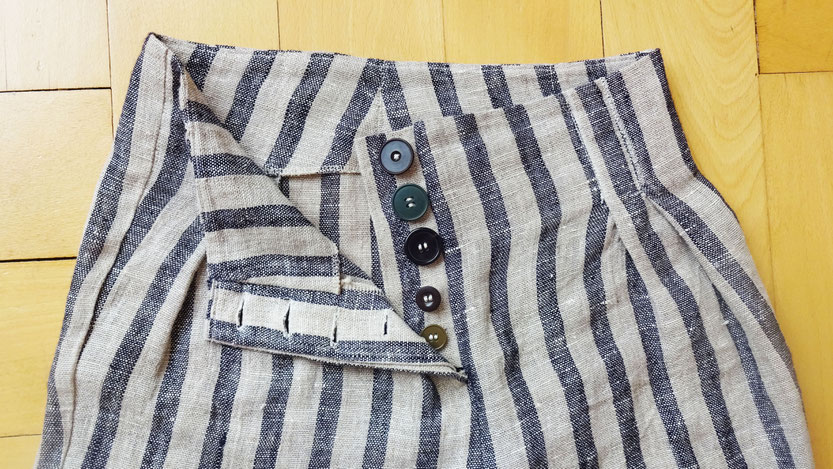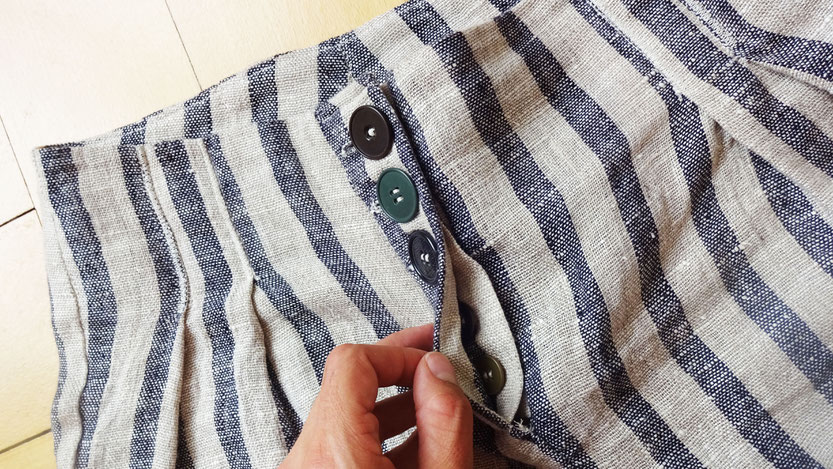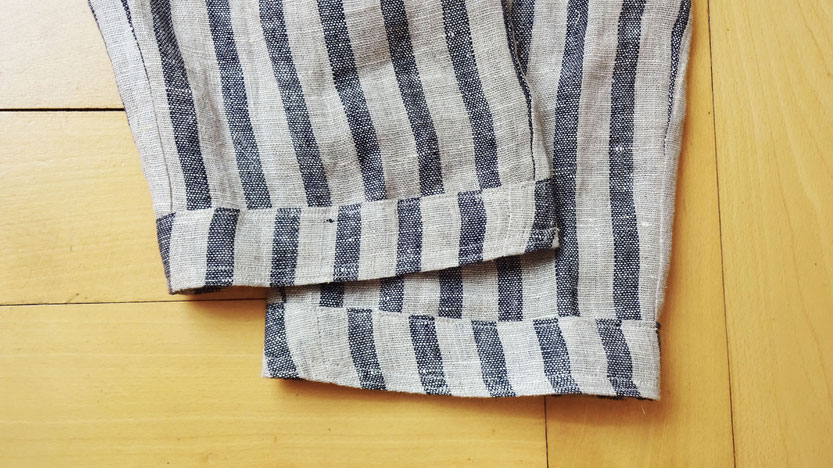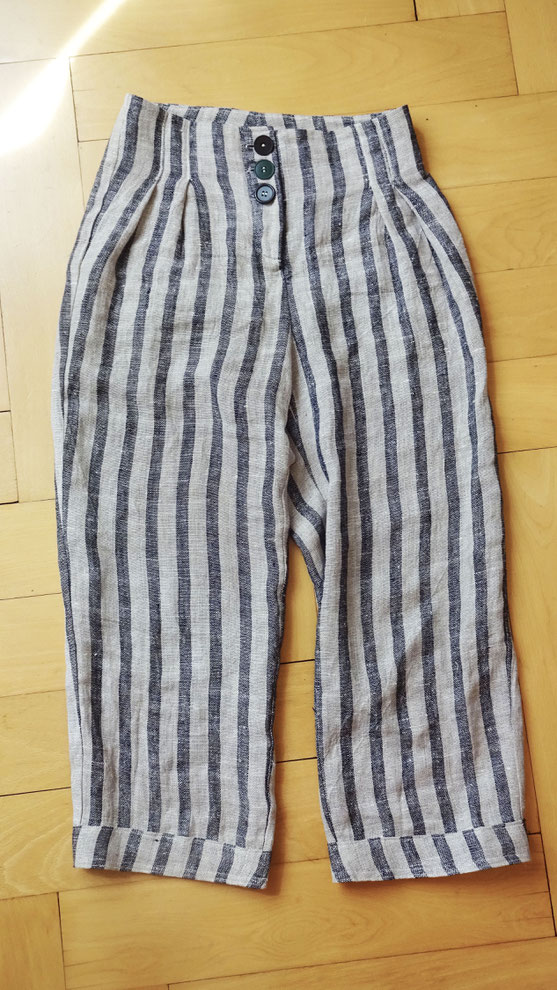 The top is also self-drafted and it's been a good companion all this summer. It's more or less just two squares attached to each other and hemmed. For the contrast neckline I used some checkered bias binding - I love this kind of pattern mixing. This top, too, has been made from pre-used fabric. I cut it from a simple A-Line skirt I once made but never wore. I made a couple of skirts when I started sewing, but I'm only just figuring out I'm not actually wearing skirts. Luckily, skirts can quite easily be repurposed into something new. I do find it very hard though to cut up something I made by hand and that I put so much effort into making! I have more handmades from my beginning days of sewing that I never wear but I'm not sure I have the heart to "undo" all my work. But let's be face it, there's no use keeping things I'm not wearing, right? So if I like the fabric I want to bring new life to it by making something I will wear, instead of buying new fabric.
What do you do with your old handmades you don't wear? Do you repurpose the fabric? Do you pass them on to someone else or donate? Or do you keep them as they are?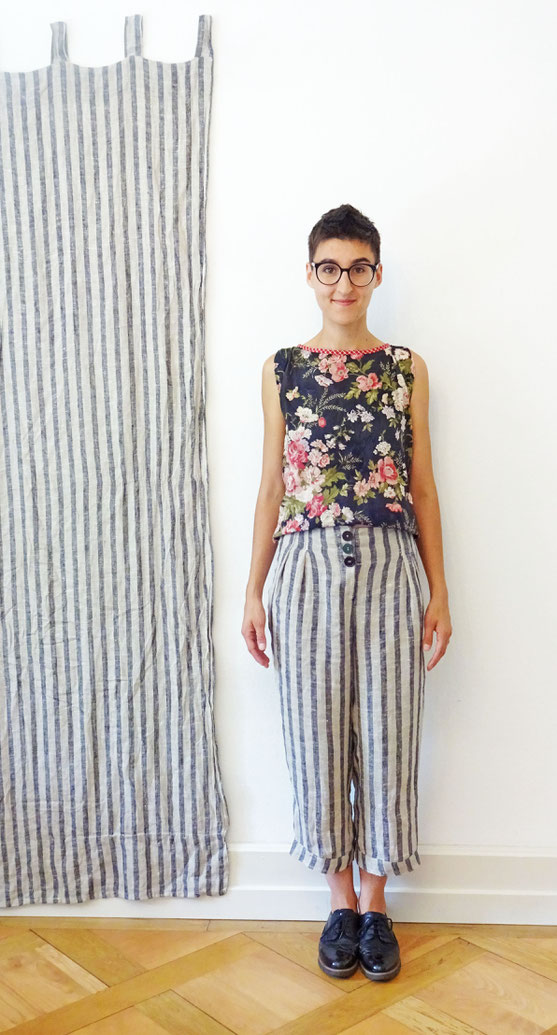 So I used just one of two curtains to make the pants. I still have the other one but I'm unsure what to do with it - especially considering the scratching nature of the fabric! Do you have any idea what I could make with it?