CHF
0.00

Your shopping cart is empty
Item no.:
30150
Manufacturer:
Studio Schnittreif
Available:
Verfügbar
Sewing Pattern - Type of Fabric:
knit
Sewing Pattern - Target Group:
for women
Sewing Pattern - Type of Clothing:
dresses
Product description
FRAU POLLY - gemütliches Sweatkleid mit Rollkragen
SCHNITTMUSTERBOGEN auf Papier mit farbig gedruckter Fotonähanleitung
FRAU POLLY mag es gemütlich. Dieses Kleid wird Deine feste Begleiterin an kühlen Tagen. Der große Rollkragen schützt den Hals vor Wind und Wetter und das schlicht gehaltene Kleid mit schmalen Raglanärmeln bietet genügend Bewegungsfreiheit für kuschelige Sofaabende, lange Schneespaziergänge oder ausgedehnte Shoppingtouren.
Ruck Zuck genäht mit der ausführlich bebilderten Nähanleitung. Schritt für Schritt vom Schnittmuster bis zum fertigen Stück. Für Nähanfänger geeignet!
Materialempfehlung: Sweat, Stepper, Nicky oder Ähnliches
Größen: 6 Doppelgrößen XS-XXL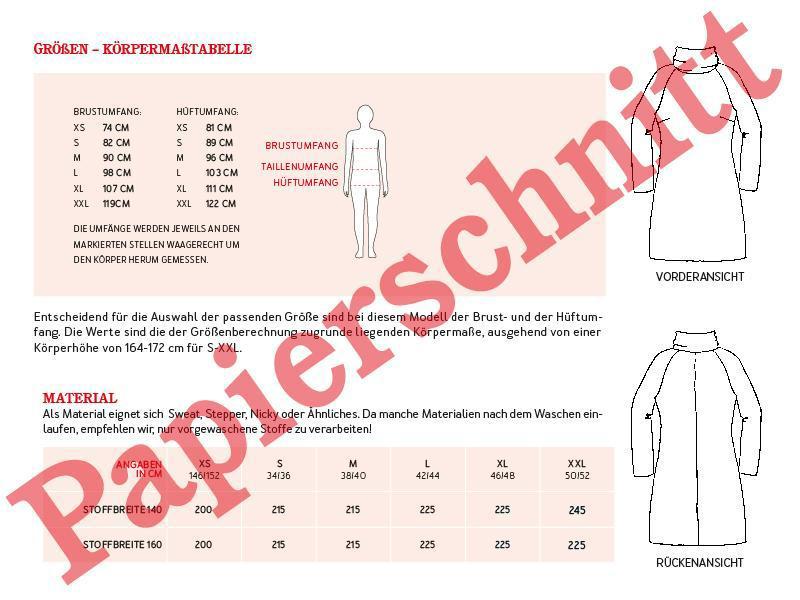 Perfect fit
More to explore