CHF
0.00

Your shopping cart is empty
Item no.:
30064
Manufacturer:
Fadenkäfer
Available:
Verfügbar
Sewing Pattern - Type of Fabric:
knit
Sewing Pattern - Target Group:
for women
Sewing Pattern - Type of Clothing:
trousers and overalls, underwear
Product description
Leggings: Größe 32- 58
Socken: Größe 32 -50
Dieses Papierschnittmuster beinhaltet die Anleitung und die Schnittteile um eine Leggings oder Socken zu nähen. Sie sind fix genäht, absolut bequem und auch für Nähanfänger kein Problem. Die Leggings kann in kurz oder lang und sogar mit Raffung genäht werden. Im Schnitt enthalten ist ein Bauchband für Schwangere – so ist die Stelzenhülle auch als Umstandsleggings zu tragen. Die Schnitteile Socken plus Leggings ergeben zusammen eine tolle Strumpfhose.
Die Nahtzugabe von 0,7 cm ist bereits im Schnitt enthalten.
Dieses Set enthält :
alle Schnittmusterteile in Farbe auf einem Großdruckformatpapierschnittmuster – Bogen
gefaltet als DIN-A4
verpackt im Druckverschluss – Beutel
gedruckte Kurzanleitung
Schritt für Schritt – Bildanleitung zum Download
Materialliste:
– Jerseystoff, Strickstoff, Stretchjeans mit min. 5% Elasthananteil, Fleece, bi-elastische Stoffe
– Bündchen
– Kordel, Satinband, Jerseynudel
– Gummiband mit einer Breite von 1,5 – 2 cm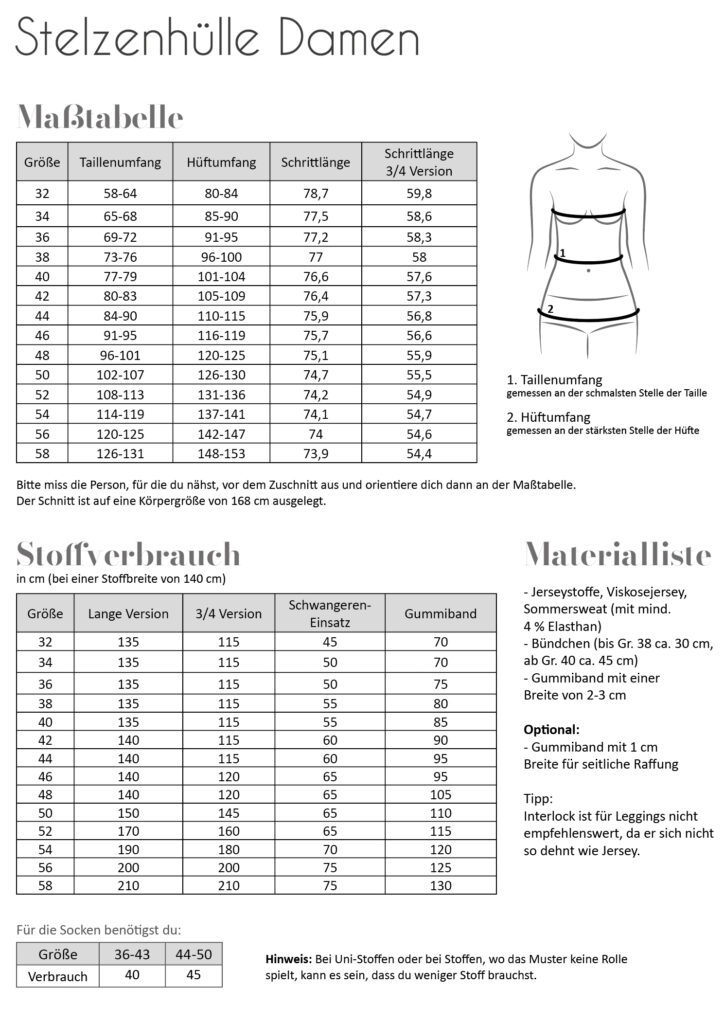 Perfect fit
More to explore